---
Designhill Introduced Payoneer as their Payment Method for designers
Recently it is announced that Payoneer is now available to designers on Designhill as a payment method alongside with Paypal. They are dedicated to making sure that earning the most for a designer's hard work, which is why they are introducing designers to Payoneer, a leading payments platform that will reduce a designer's payment fees by up to 70%!
Receiving payments through Payoneer is fast and easy. As a designer on Designhill now you can choose how you'd like to receive your funds, either to your Payoneer account or a prepaid Mastercard®.
How do you set up Payoneer as a withdrawal method?
In order to set up Payoneer for withdrawal your money, you need to request a payout. Follow these steps below:
1. Login to your Designhill account and click on your image at top-right of the site, then select My Accounts from the dropdown menu.
2. Select the Withdrawal Method from the left-hand sidebar.
3. Now you need to set up your preferred withdrawal method, from two types of withdrawal methods: PayPal & Payoneer.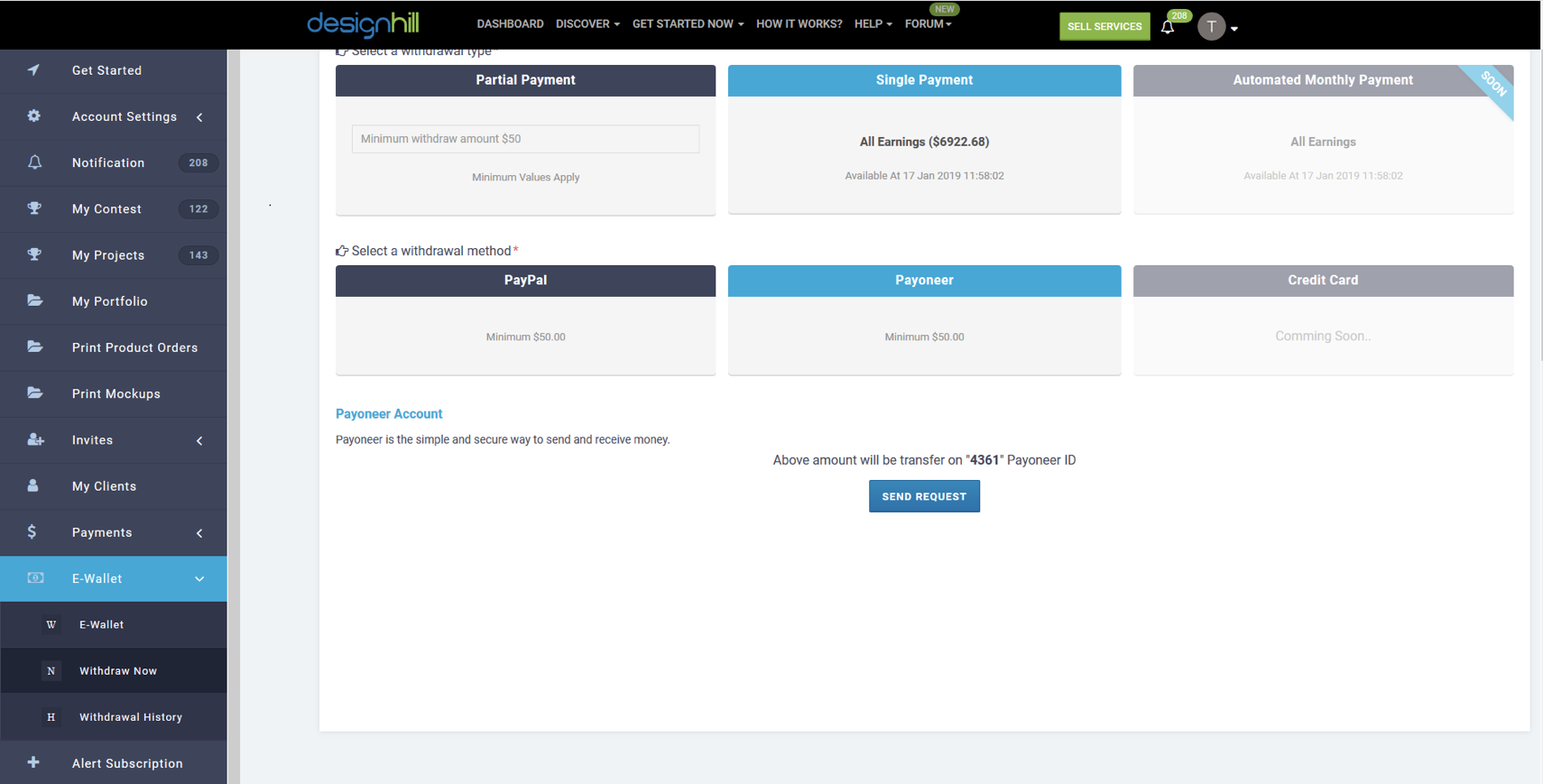 4. To setup Payoneer, if you already have a Payoneer account click on Click Here to Login button and if you don't have a Payoneer account yet then click on Sign up Today button. Now, you will be redirected to Payoneer's website to complete the process.
What fees do you charge for Payoneer Withdrawal from Designhill?
Payoneer is the most cost-effective payment method. Activation is free for Designhill' designers and monthly fees are minimal. For Payoneer withdrawal, there is no withdrawal fee actually.
This payment method may charge you extra fees depending on your location. Check their respective websites to see which is most cost-effective for you.
So what are you waiting for? Add Payoneer as a payment method for withdrawal and start saving today.
Recommended Posts
August 22, 2019
January 20, 2019